March 21, 2013
ICNS Agenda Now Available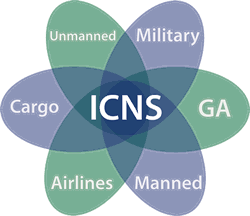 The draft agenda is now available for viewing on the ICNS website.
Highlights include the following:
Day 1 Plenary: Next Generation Airspace Developments
Keynote Speaker: Pamela Whitley, Assistant Administrator for NextGen (A), FAA
Plenary Panel led by Steve Bradford, Chief Scientist for Architecture and NextGen Development, FAA; and Bo Redeborn, Principal Director ATM, EUROCONTROL
Day 2 Plenary: UAS in the NAS

Keynote Speaker: Jim Williams, Program Executive, UAS Integration Office, FAA
Plenary Panel led by Ed Waggoner, Director, Integrated Systems Research Program, NASA
Day 3 Plenary: Operational Update
Plenary Panel led by Karl Grundmann, Aviation Management Associates
Authors
Technical session authors: you may begin uploading your papers now through this online form. The paper upload deadline is April 1st. View all online forms.
Registration and Hotel
Hotel Room Block Rate Good Until March 30
The hotel room block is available on a first come, first serve basis.
Register Online Now
Presenters should be registered by April 5th.