ICNS Conference Website | 2014 Call | Submit Abstract | Hotel
January 10, 2014
Edward Bolton, Keynote Speaker for Day 1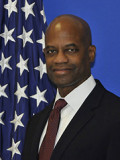 Edward L. Bolton Jr., Assistant Administrator for NextGen at the Federal Aviation Administration, will be the keynote speaker prior to the April 8 plenary session of the 2014 ICNS Conference.
The Office of NextGen (ANG) is responsible for leading the transformation of the National Airspace System. Bolton leads a federal workforce of more than 900 employees, and manages the $1 billion annual budget of the Next Generation Air Transportation System.
Mr. Bolton joined the FAA in September 2013 after a career with the U.S. Air Force, most recently with the rank of Major General and the position of Deputy Assistant Secretary for Budget in the Office of the Assistant Secretary for Financial Management and Comptroller. He led a team of financial managers responsible for the Air Force's $110 billion annual budget.
New ICNS Interactive Workshops
With this year's ICNS, we would like to start a new approach for an even more intense knowledge exchange and for increased interaction between conference participants by establishing Interactive Workshops. The overall workshop topic will be split-up into three workshop themes where everybody can sign up for active participation. The results of the three workshops will be summarized to the conference participants and captured into a workshop summary report. This document report will be advertised at the ICNS website where it will also be available for download.
Year after year, ICNS attracts both policy makers and excellent scientists from governments, industry, and research – just the right mixture to discuss hot topics and to find potential solutions. ICNS already utilizes this concentration of policy makers and researchers by an appropriate split between Plenaries and Technical Sessions. The Interactive Workshops as third pillar will add significant value to participation in ICNS.
Abstract Deadline is January 18th
Blocks and Builds – Air and Ground Convergence
Authors are invited to submit abstracts of no more than 750 words by January 18, 2014 on the key topical areas listed above or other relevant aeronautical CNS topics through the online ICNS Abstract Submission Form.