ICNS | Agenda | Submit Abstract | Hotel Reservations
January 30, 2014
In This Issue
Nancy Graham Confirmed for Day 1 Plenary Keynote
Final Call: Abstract submissions due February 1
Nancy Graham, Director, Air Navigation Bureau, ICAO, Tuesday, Day 1 Plenary Keynote Speaker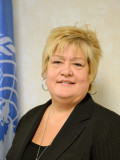 Nancy Graham joined the International Civil Aviation Organization (ICAO) in 2007 as the Director of the Air Navigation Bureau. ICAO is the United Nations specialized agency mandated to establish and maintain the international standards for safe, efficient and economical international air transport. She led the Air Navigation Bureau through a major transformation, broadening its scope to include the full spectrum of safety and efficiency programs.
Nancy is a strong believer in partnership with aviation's international organizations and works to foster joint activities to improve aviation safety and efficiency. Her personal motto is "more logos, less meetings," in other words, results-oriented partnerships with all parts of the aviation system. Prior to joining ICAO, Nancy was an executive with the Federal Aviation Administration (FAA), serving in a variety of capacities around the world including Asia Pacific, Europe, the Middle East and Africa.
Final Reminder: Abstract Deadline Now February 1
Blocks and Builds – Air and Ground Convergence
Authors are invited to submit abstracts of no more than 750 words by February 1, 2014 on the key topical areas listed above or other relevant aeronautical CNS topics through the online ICNS Abstract Submission Form.