Exhibitor Reception
Keynote Speaker Announced
Hugh Blair-Smith
"Left Brains for the Right Stuff"
Tuesday Evening, April 9, 2019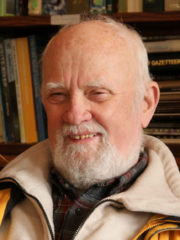 Hugh Blair-Smith is the author of the book, Left Brains for the Right Stuff: Computers, Space, and History, published in 2015. This past December, he appeared in the episode of the PBS television series Nova, "Apollo's Daring Mission," celebrating the 50th anniversary of Apollo 8, the first to place men in orbit around the Moon.
Blair-Smith worked at MIT Instrumentation (later Draper) Laboratory from 1959 to 1981, designing guidance and navigation hardware/software for Apollo and fault tolerance software for the Space Shuttle. From 1982 to 2004, he joined a variety of small companies developing touch-screen user interfaces and mainframe performance monitors. Coming out of retirement in 2007, he created design verification and runtime diagnostic software for a Lunar Reconnaissance Orbiter instrument. From 2008 to 2017, he presented papers at Digital Avionics Systems Conferences, two of which appeared in IEEE/AES.
Register Online
Discounted advance registration ends
Wednesday, March 13.
View rates and fees at the website.
Preview the Technical Program
View the list of accepted papers for ICNS 2019 and preview the topics to be covered this year.
Hotel Reservations Online
Book your hotel room at the discounted rate.
Group rate ends Sunday, March 17.
Final Nominations for
ICNS Champion Award
The ICNS Champion Award recognizes specific individual(s) with significant contribution to the CNS field (scientific/policy contributions), and in addition, if possible support of the ICNS Conference (organization/success).
Nominations are invited by all interested parties and are requested by February 28, 2019.
2019 ICNS Sponsors
| | | |
| --- | --- | --- |
| Silver | Bronze | Supporter |
| Boeing | Frequentis | Aireon |
| | | Honeywell |
| | | MITRE |
| | | Mosaic ATM |
Consider Sponsoring ICNS 2019
Benefits include the following:
Premier international aviation conference addressing technology and policy advances in CNS, research, development and implementation programs and policies related to CNS/ATM capabilities and applications.
Assembles leaders from government, industry and academia as well as senior technical experts and thought leaders to address important policy issues and discuss the future directions.
Provides exposure to a global audience, opportunities for networking and an enhanced, efficient and informal exchange of views among policy makers and researchers.
To unsubscribe from this list, please follow the instructions below (or attached) or view your subscription options. Not subscribed? You may also subscribe to this list.